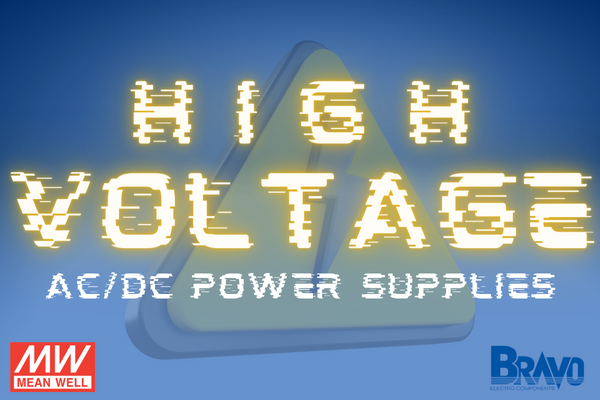 You may already know that Bravo Electro is your one-stop shop for all things standard AC DC power supplies. But, were you aware that we also have a range of different types of high-voltage power supplies as well?
These are sourced directly from the most reputable manufacturer in the industry - MEAN WELL. Reaching voltages as high as 380Vdc, these units are the highest-voltage power supplies we carry. From centralized bus power to high-voltage charging systems, automatic industrial equipment, 5G communication equipment, and a whole lot more - the use cases for these devices are vast.
And today, we're going to break down the different products in MEAN WELL's high-voltage lineup - including key features that set them apart from the rest.
What are the Different Types of High Voltage Power Supplies Available at Bravo Electro?
Here are the four series we're going to discuss today that you can count on for any project demanding the highest output:
SHP-10K series
HEP-2300 series
RST-7K5 & RST-15K
Without any further ado, let's introduce you to the SHP-10K series
The MEAN WELL SHP-10K Series
Looking for a high-efficiency power supply for your business or industrial needs? Look no further than the SHP-10k series from MEANWELL. These powerful devices boast 10KW 3-phase input AC-DC power supplies with 55V DC, 115V DC, 230V DC, and 380V DC outputs. And with a broad three-phase AC input range, you don't even need a neutral wire.
These devices aren't just powerful - they're highly efficient, up to 97% to be exact. What's more, the SHP-10k series comes in two cooling variants - forced air or water - and can operate in ambient temperatures ranging from -30 degrees Celsius to +50 degrees Celsius. Allowing a wide variety of operating conditions these models are built to last - providing reliable use for years to come.
And with the ability to program the output voltage and constant current level, as well as active current sharing up to 4 units (40KW), you have even greater control and flexibility over your power supply needs. The fully digital design makes this easy. In terms of installation, these are optimized for chassis mount or can be installed in a 19" rack cabinet thanks to the under 2U size.
Worried about safety? The SHP-10k series comes equipped with numerous protections, including short circuits, overload, overvoltage, over temperature, and fan failure. It even has a built-in remote off/on switch.
In addition to all these levels of protection, the series meets the latest EN/UL62368-1 international safety standards - helping you stay compliant. And with a 5-year warranty, you can rest easy knowing your investment is protected.
There's no question that these high-powered, high-reliability units are an excellent choice for storage & charging systems, automation equipment, electrolysis equipment, UV & laser applications, and burning-in equipment. The only question is - which is right for you? Choose the model that fits your needs: SHP-10K-55, SHP-10K-115, or SHP-10K-230. Or, consider a unit from the HEP-2300 series…
The MEAN WELL HEP-2300 Series
If your use cases involve exposure to harsh outside elements, the MEANWELL HEP-2300 Series is likely the type of high-voltage power supply you need. Like the SHP-10K series, this series is available in four different output voltages: 55V, 115V, 230V, and 380V. You can adjust this voltage in one of three ways:
A built-in variable resistor
Through the programmable (PV/PC) function
Through digital communication such as CANBus/PMBus/MODbus
But here's what makes this series so special…MEAN WELL's HEP-2300 series is specifically designed to work reliably and safely in even the toughest conditions. As such, it's equipped with up to IP67 waterproof and dust protection, 10G anti-vibration capability, a fanless design, and an aluminum extruded case with conduction cooling.
All of this means you can rely on this series for a variety of use cases - from outdoor industrial & telecommunications equipment to digital communication functions. And of course, it can be used in similar use cases to the SHP-10K series: charging equipment, electrolysis equipment, laser cutting, and UV curing equipment. It can even integrate into the human-machine interface for system control.
And, further adding to its protection and versatility, you can wire these units in a few different ways: traditional terminal block, waterproof wiring cable and waterproof connector. We've seen our customers use the waterproof connector for their 4G telecommunication radio equipment, RRU (Remote Radio Unit), and 5G active antenna AAU (Active Antenna Unit).
The MEAN WELL RST-7K5/15K Series
Last but certainly not least, the final types of high-voltage power supplies we want to highlight are the MEAN WELL RST-7K5 and RST-15K Series power supplies. These 3-phase 4-wire high-voltage units offer an incredible 97% efficiency rating and up to 30kW maximum parallel output power.
As with the previous two series, the RST-7K5 series is offered in three different DC output models: 115V, 230V, and 380V. For the RST-15K series it is also offered in the same output voltages: 115V, 230V, and 380V. This high voltage output range accommodates a variety of industries and use cases, including but not limited to automatic industrial equipment, charging energy storage systems, and centralized bus power. Taking things a step further, you can fine-tune the output voltage as needed, covering from 1% to 120%.
This series features much of the same protection as the others. That means you can count on these devices to work reliably around the clock no matter what life throws your way. They're equipped with various built-in monitoring signals like over temperature alarm, DC-OK, fan fail alarm, AC fail alarm functions, and more - all of which allow you to control and integrate systems equipment as needed.
And, the models within these series are rated for use in variable temperature conditions, with operating temperature ranges from -30 degrees Celsius to 45 degrees Celsius under full load. You can choose between forced-air cooling with built-in fans or water cooling (water cooling plate can be ordered separately).
When it comes to cost-efficiency and reliability, you really cannot beat the MEAN WELL RST-7K5/15K series.
Want Help Choosing the Right Type of High Voltage Power Supply?
Each of these series has its place in the world of high-voltage power supply. But, the tricky part is figuring out which series - and which specific model within that series - is right for your unique use case. That's something we can help you out with at Bravo Electro.
While you may know us more for our 12v power supplies, 24v power supplies, and 48v power supplies, we have all these higher-voltage series available as well. And, you can connect with our customer support team or one of our Power Experts to talk over the details of your application and find the right fit. Another option to connect with us is through our recently added Power Supply Requirement Form. We're passionate about helping design engineers make their systems work - so don't hesitate to reach out for a recommendation!
Wrapping up Our Guide to the Different Types of High-Voltage Power Supplies at Bravo Electro
These high-voltage power supplies by MEAN WELL USA are sure to fit your needs. If you want to learn more about power supplies in general, our blog is filled with in-depth resources to help you make sense of this complex topic. Learn more about what a modular power supply is, whether house electric is AC or DC, the difference between AC and DC power supply, how to troubleshoot power supply problems, and more!
Otherwise, it's time to head over to our site and explore these MEANWELL series in greater detail to discover the right solution for you. Remember - help is just a live-chat or phone call away!