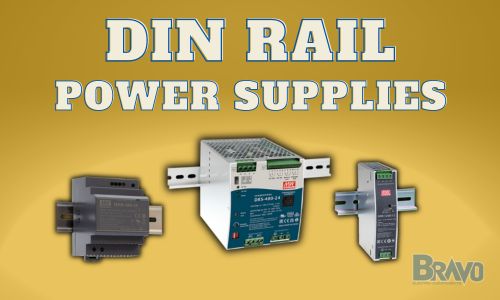 Looking for a DIN rail power supply? No matter your voltage requirements or use case, you'll find the perfect match here at Bravo Electro - shop now and unlock peak efficiency and unparalleled reliability from top manufacturers.
Read more




Unlock Peak Efficiency & Unparalleled Reliability with Din Rail Power Supply Products at Bravo Electro!

A DIN rail power supply is used to convert an erratic, unstable input voltage to a more usable, regulated output voltage. They're used across a multitude of industries - from automotive to wind power, mechanical engineering, and a whole lot more.

Regardless of your specific industry, though, one thing is for sure. When searching for any sort of AC DC power supply, you need a few things: efficiency, reliability, and ease of setup. And for all that, you can look no further than our collection here at Bravo Electro.

As the #1 choice for all things electrical components, you can rest assured that we've got exactly what you're searching for here in our catalog. But the Bravo Electro difference extends beyond the products themselves - it comes down to our customer service and technical support, too.

Shop now and see firsthand why businesses prefer to source their components here with us. Or, keep reading - we'll highlight a few benefits of shopping with us.

Why Buy Din Rail Power Supplies at Bravo Electro?

Based in the heart of tech in Santa Clara, Bravo Electro is one of the most trusted sources for all things power supply - and our collection of DIN rail power supply products reflects that. Here on this page, you'll gain access to an array of models from the most reputable manufacturers in the industry - like MeanWell. Regardless of wattage, voltage, or rating requirements, you'll find what you need here.

But the best part about shopping with us is the support you get. Need help finding the right product? Not sure where to start? Do you have a custom job that requires specialized requirements? No matter what your needs are, we're here to help. With our live online chat (see bottom right), Bravo's simple power supply requirement form (same day responses), or calling us (408-733-9090) we're available to assist.

And, if you order product we have in stock by 12pm pst, we'll ship it out the same day.

We Have All Your Electric Component Needs Beyond Din Rail Power Supplies, Too!

When we say Bravo Electro is your one-stop shop for all things electronics, we mean it. Of course, you know all about what makes us the premier choice for DIN rail power supplies - but did you know we have all your AC DC power supply needs covered here, too?

That's right - you can find everything from LED driver power supplies to external power supplies, open frame power supplies, and enclosed power supplies.

We've got all voltage requirements, too, including 12-volt DC power supplies, 24-volt DC power supplies, and even 48-volt DC power supplies. So - what are you waiting for? Shop now or reach out - let's get this task crossed off your to-do list today!
Request Volume Pricing or Ask a Question
Working on a project and need volume pricing (20pcs or more)? Buying more than our advertised quantities? Or maybe you just have a question? Fill out the form below and someone will get back to you within one business day, if not sooner!