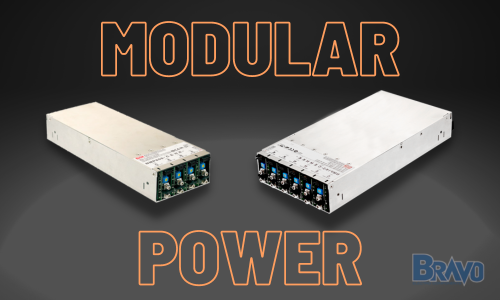 Modular power supplies offer the ultimate flexibility in providing up to 12 custom outputs, each of which can be tuned from 3-55v. They're feature-rich and the high-quality design is backed by a 5-year warranty. We have the capacity to build up to 500 custom units a week - equipped to meet any safety compliance for both industrial/medical applications. Shop below, use our Modular Power Supply Builder, or get in touch to learn more!
Read more




Enjoy Peace of Mind With a Powerful, Efficient Modular Power Supply From Bravo Electro!

In today's competitive industrial and medical landscapes, the need for reliable, efficient, and powerful power supply units has never been more critical.

Unplanned downtime, inefficient energy consumption, and compatibility issues with traditional PSUs might be some of the challenges that steal your focus and affect your peace of mind.

The stakes are too high in your operation to settle for anything less than the best. You need a solution that not only meets your demands but exceeds them. That's where Bravo Electro comes in with our world-class collection of modular power supplies!

At Bravo Electro, we understand the unique needs and pain points of our commercial clients. We know that you're not looking for computer PSUs, but rather something more robust and tailored for your industry.

Our modular PSUs are designed to provide top-notch performance, flexibility, and efficiency that is fit for industrial and medical applications. We're the industry's trusted choice for not just fully modular units, but all things power supply. And, you don't just have to take our word for it…

"Very professional customer service, range of products is big, and the price is competitive" - Alejandro Vargas

"Highly Recommend. Awesome company." - David Pitts

"This is a great company to find many of the parts we use for our OEM projects." - Emil Castrillo

Want to learn more about what makes our collection of modular PSUs so special? Keep reading below!

What Makes Bravo Electro the Industry's Trusted Choice for All Things Industrial Power Supplies?

Bravo Electro has worked relentlessly to earn a reputation as the most trusted power supply provider in the industry since 1993. And today, we're still committed to this pursuit. Here's how we do it:

Unparalleled Customer Support: Our team of experienced professionals, including on-staff electrical engineers, are here to guide you through the complex landscape of modular units. Whether it's a simple question or building a custom unit tailored to your unique specifications, we're just a call or click away.
The Best Products from Trusted Manufacturers: We are proud to offer Mean Well power supplies, a brand renowned for its efficiency, reliability, and longevity. These units come with features that protect your operations from costly downtimes, resonating with our commitment to exceeding expectations. They're equipped with programmable output current, monitoring capabilities, remote local ON-OFF, safety alarms, DC OK, and more.
Competitive Pricing and Rapid Turnaround Times: Thanks to our stellar industry relationships, we offer highly competitive pricing, especially when you buy in bulk. Our efficient supply chain ensures rapid turnaround times with containers arriving weekly, allowing us to ship out your order the very same day in some cases.
Custom Solutions: Need something tailored to your unique needs? No project is too big or complex for our electrical engineers. Our fast turnaround, facilitated by our power supply requirements form, ensures that you get exactly what you need when you need it.

It doesn't get any better than the product selection and customer support you gain access to by partnering with Bravo Electro - whether you're buying a standard PSU or need a customized modular power supply for something unique. So, browse our selection below or start bringing your custom unit to life using our modular builder!

Choosing Your Modular PSU or Building One From Scratch Has Never Been Easier

To ensure seamless integration of power into your system, it's essential to embark on the selection process armed with the right knowledge. Here's a step-by-step guide on where to begin:

Determining Your Outputs: An "output" refers to the individual power source that you'll be connecting to your devices or components. Consider all the components within your system that require power, such as motors, sensors, controllers, or displays.
Figuring Out Voltage and Amps: For every output, you'll need to determine the required voltage (V) and current (amps or A). The voltage is the electrical pressure, while the current is the flow of electricity. Different devices may have varying voltage and current requirements. Make sure to consult device specifications or work with your engineers to accurately assess these needs for each output.
Calculating Maximum Power Required: Multiply the voltage and current (in amps) for each output to get the power consumption in watts (watts = voltage x amps). Then, sum up the wattage for all outputs to determine the overall maximum power needed from the modular power supply.

We recommend you add a buffer of 10% to accommodate for potential fluctuations and provide a safety margin.

The chassis (the component that houses various models) must have enough slots to accommodate the total number of outputs while also supporting your total power output needs with the added 10% buffer.

We know that this topic can get complex, which is why we don't recommend you handle it alone. We're a click or call away ready to guide you through choosing your modular power supply.

Browse the Products Below or Build Your Own Fully Modular Power Supply to Your Unique Specifications!

Bravo Electro is more than a supplier; we are a partner that understands your needs and offers solutions that empower your business. With our top-of-the-line modular PSUs, your search for reliability, efficiency, and customer-centric service ends here.

We also offer a full range of enclosed power supplies, open frame power supplies, external power supplies, DIN rail power supplies, and medical power supplies. Whether you need 12v power supplies, 24v power supplies, 48v power supplies, or something higher, we are equipped to fulfill your needs.

Explore our product range, or get in touch with our electrical engineers to build your own fully modular power supply that fits your unique specifications. Don't let power challenges hinder your growth. Join hands with Bravo Electro today and power your future with confidence!
Request Volume Pricing or Ask a Question
Working on a project and need volume pricing (20pcs or more)? Buying more than our advertised quantities? Or maybe you just have a question? Fill out the form below and someone will get back to you within one business day, if not sooner!